About "Tar Baby"

John Alden aboard his own 390, "Abenaki" 1950
"Tar Baby" is one of the finest examples of a classic wooden yacht in the world. Designed by John Alden, long considered the world's greatest schooner designer, and originally commissioned by Gilbert Hood of Hood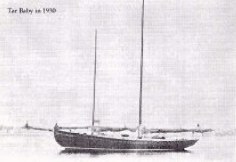 Dairies in 1928, she was launched in 1929. Mr. Hood kept her until 1975, when he sold her to Carl Sherman of Westbrook CT. Mr. Sherman recently sold Tar Baby to her present owners, who use her as a family cruiser when she is not being chartered.
Tar Baby is not only known for her beautiful design and balanced helm, but also for her stunning interior and pristine condition. There is a chapter on her in the book "Classic Yacht Interiors"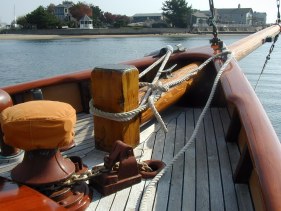 published by W.W. Norton & Company, and also in the book "John G. Alden and His Yacht Designs" published by McGraw-Hill. Benjamin Mendlowitz, the world's premier marine photographer, has a chapter on Tar Baby in his popular book "Wood, Water & Light". She has also been the subject of numerous magazine articles.
There were nine schooners built to her design (# 390), Tar Baby being the first and now, sadly, the last survivor still in original condition. John Alden personally owned two sisterships to Tar Baby: the first right off the ways ("Venturer"); then, in his retirement, he bought back another 390 ("Abenaki") to be his personal cruiser. After purchasing his

retirement yacht he wrote an article for Yachting Magazine stating that the 390 was his favorite design. He then went on to win second place in the 1950 Bermuda race in Abenaki. Another 390, "Arcturus" (extensively rebuilt but still in service in New Zealand) was owned by General George S. Patton, and he and his wife sailed it to Hawaii and back when he was stationed there prior to WorldWar II. Arcturus was later owned by the actor Gene Kelly.
The present owners regard Tar Baby as a floating museum of yachting history,

and consider themselves her stewards. They invite you to share in her beauty and grace.